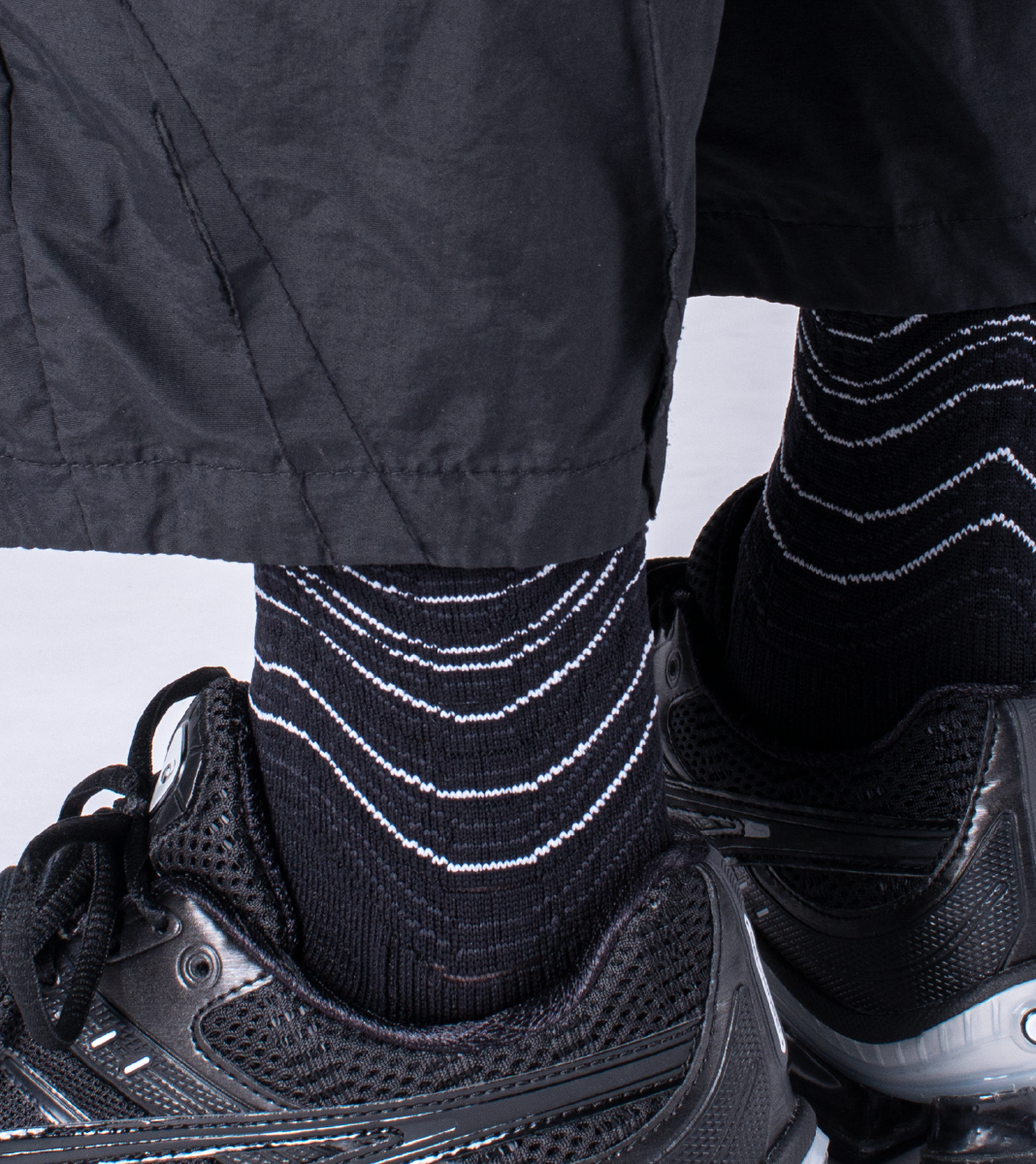 《THE ECHO》WK.P-01 ACC COLLECTION
The concept of 《THE ECHO》 focuses on "mild-functional design" which defines functionality as part of daily life.
 Therefore, functional design is hidden from outer appearance which results in a curved pattern cutting instead of solid, which comes along with 3-D pattern cutting, easy-accessed buckle, and high performance customized mesh fabric. 
The visual design was inspired by "music whispering" describing music is an airship surrounding in the universe, it brings us floating between mountains and oceans to a station without worries.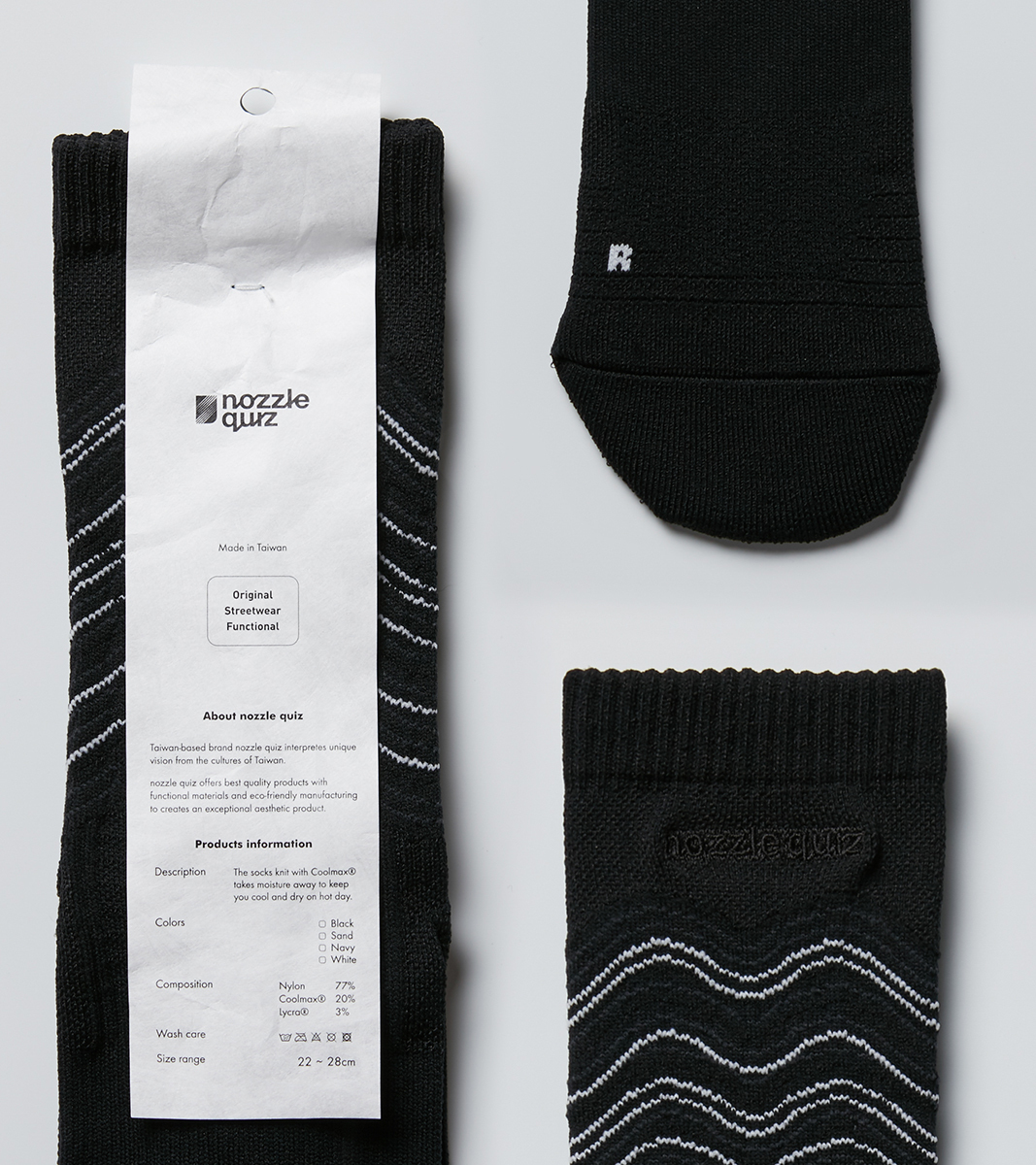 Composition : 77% Nylon, 20% Coolmax®, 3% Lycra®
Material / Manufacture / Package: Taiwan
*Please note that Coolmax® fibers are prone to pilling at areas that come in frequent contact with the inside of the shoe (heel, toes, and tongue).
F
Functional Sock Solutions
COOLMAX® All Season Technology
Patented by The LYCRA Company, COOLMAX® is a moisture-wicking technology; fabric made with COOLMAX® transports moisture away from the feet throughout the day to keep the wearer cool and dry for ultimate comfort. It's moisture-wicking properties also allows the fabric to dry quickly after washes.
Lycra® Elastic Fibers
The patented fiber from The LYCRA Company outperforms its competitors in stretch and recovery, redefining comfort, fit and freedom of movement.
100% Azo Free Certificate
Azo dye releases carcinogen when in contact with the human body. We are committed to an Azo free dying process to meet international safety standards and prevent adverse effects on the environment and the human body.
Machine Linking
The toe of the sock is machine-linked, removing any discomfort from friction against phalanges and ensuring comfort after a long day in your socks.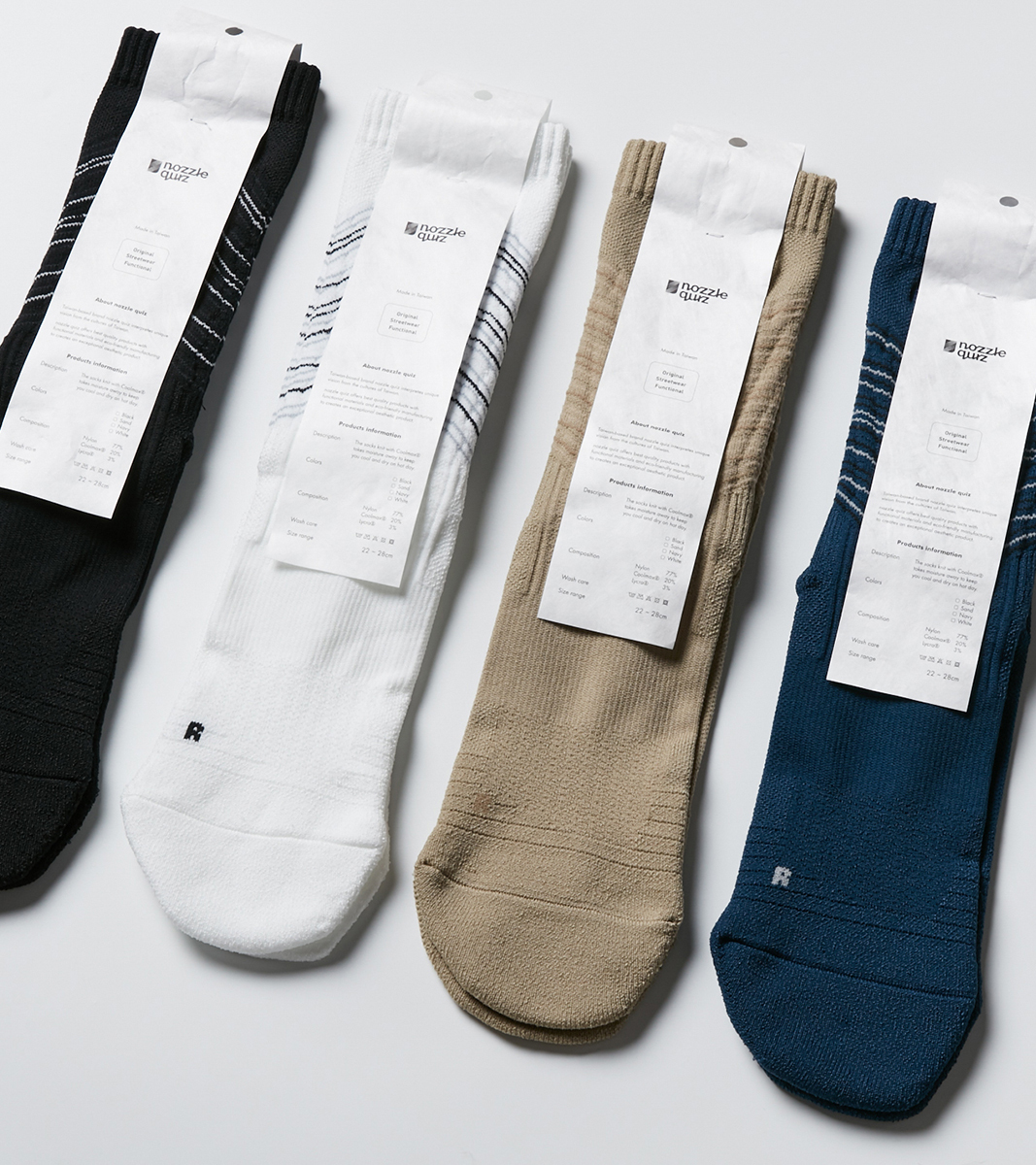 About nozzle quiz®
The functional accessories and designs of nozzle quiz® perfectly fuses with Taiwanese culture to offer, in extension, a clean-cut interpretation of Taiwanese streetwear. Our comfortable accessories are ideal for day-to-day life and for travelers with a keen sense of style. We believe that functionality should be imbued within daily accessories and the theme of flexible functionality pervades our products to resolve any functionality requirements foreseeable in an urbanite's daily life. The introduction of simple, clean, and independent aesthetics into the wearer's daily life is a true expression of the label's essential theme: "Make You Exceptional."